Physical Education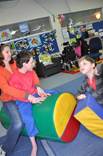 Students access a comprehensive program in physical education skills from a specialist teacher.
The Physical Education Program aims to:
To provide students with a structured setting where they can develop their physical skills, both supported and targeted at their individual level.
To improve students physical fitness, flexibility and range of motion.
To provide students with recreation possibilities.
To interact with other students, recreation and community groups.
To work closely with classroom programs to ensure 'whole school' approach to work hand in hand with Therapy Focus and other stakeholders.
To work towards improving students gross motor and fine motor abilities.
To develop in the students an awareness of the actions they can take, with help from others, to improve their health, safety and independence.